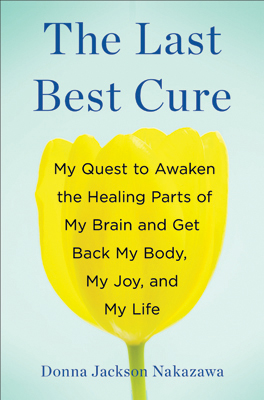 In my own health care management I find it very helpful to read books about the conditions or treatments that I am dealing with. For me, it gives me a chance to spend a good chunk of time thinking and helps me connect pieces together. I understand this is my particular learning style, but for those of you that share this learning style I've got a treat for you. Every first Monday of the month I will be reviewing a book that I believe will be beneficial to my audience. I'll keep the review brief, so you can do your own processing as you read the book on your own. Feel free to jump in with comments after you've read the book.
The Last Best Cure by Donna Jackson Nakazawa
Nakazawa is a science journalist with a multitude of health conditions including Guillain–Barré syndrome.  Through The Last Best Cure she documents "My Quest to Awaken the Healing Parts of My Brain and Get Back My Body, My Joy, and My Life." Her writing is engaging. She participates in psychotherapy, yoga, acupuncture, and meditation in order to change how her body works. The results are phenomenal. I do not share this book to say that your loved one's dementia will be cured by following her journey. She doesn't claim that either. This book is helpful for caregivers to read because:
It will help you understand the thoughts of someone with chronic illness.

You may be able to implement some of her activities with your loved one to see if there is any benefit (remember we're looking for improvement not perfection).
Caregivers are often stressed. This book is a wonderful example of good self care.
Enjoy! Let me know what you think!
Latest posts by rachelwynn.slp@gmail.com (see all)